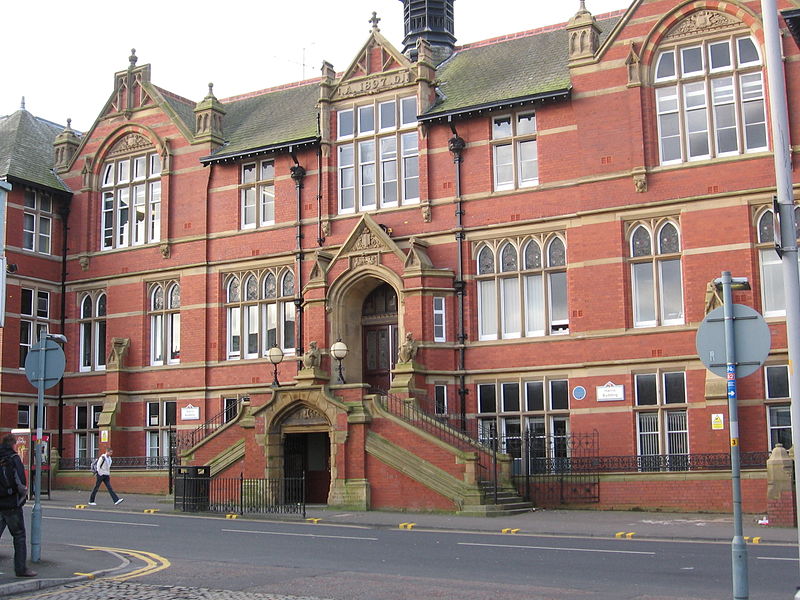 University of Central Lancashire
"Ex Solo ad Solem" From the Earth to the Sun
The University of Central Lancashire (abbreviated UCLan) is a public university based in the city of Preston, Lancashire, England. It has its roots in The Institution For The Diffusion Of Useful Knowledge founded in 1828. Subsequently, known as Harris Art College, then Preston Polytechnic, then Lancashire Polytechnic, then University of Lancashire. The university is the 19th largest in the UK in terms of student numbers
The university is on an urban campus in Preston and others in Burnley, Westlakes in West Cumbria for nuclear and energy related research programmes and a €53 million campus in Cyprus opened in October 2012.
The university has students and researchers from over 100 countries and partnerships with 125 international institutions. It has a base in China's Shenzhen Virtual University Park, conducting collaborative research with some of China's leading universities into nanotechnology with applications in drug delivery, water purification and fire toxicity.
Within the School of Language and Global Studies, staff speak 30 languages and represent 22 nationalities.
UCLan has 98 professors, over 600 research or knowledge transfer-active members of staff, and 763 research students. There are 246 Honorary Fellows of the university.
The University is currently undergoing a £200 million expansion programme, with several new buildings under construction at the Preston main campus.
These building are:
Social Spaces (open as of 2018). Two new social spaces, one located between the Harrington and Greenbank buildings and the other at the Foster building. These social spaces contain a range of relaxation space for students including; pool tables, table tennis tables and a bean bag area.

Engineering Innovation Centre (under construction). A £32 million purpose built teaching and exhibition space. The building will contain several specialist labs as well as four flight simulators.

Oasis: Faith and Spirituality Centre (opening may 2018). Consisting of multiple faith rooms, counselling and event space as well as roof terrace, this multi faith centre is to replace the existing one located on Peter's Court.

Student Centre and New Square (construction starting soon). This £57 million project is intended to create a new campus reception building, housing several student services, meeting rooms, office space, event venues and a rooftop garden. A new square is to be constructed in front of the student centre. Both the new square and student centre are to be constructed partially on the existing Adelphi roundabout and on now empty land once occupied by the Fylde building.
International developments
UCLan enrols students from over 100 countries and has partnerships with 125 international institutions located across the world. Each year over 2,000 international students study at the University's Preston Campus.
UCLan was the first modern university in the UK to be included in the Quacquarelli Symonds (QS) World University Rankings. In 2013 QS awarded UCLan the full five stars for its approach to 'Internationalisation' with a proven track record for specialising in all aspects of international educational provision.
UCLan has over 3,000 students enrolled offshore, across a diverse range of countries including China, Greece, India, Mauritius, Singapore and the USA.
In 2013, following receipt of Chinese Ministry of Education approval and together with its partner Hebei University (HBU), the UCLan established the 'Hebei/UCLan School of Media, Communication and Creative Industries'.
Initially the joint School will have non-independent status, meaning that although it will be a separate entity from HBU it will be wholly owned by it. The School will have 800 students, recruiting 200 per year for the four-year duration of the programmes. The intention is to grow to 1,600 students and then to focus on a broader range of subjects, targeting science in the second wave. When successfully operating at the expanded level, the School will apply for independent campus status.
Rankings
UCLan is in the top 3.7% of universities worldwide according to The Centre for World University Rankings 2016 (CWUR)
UCLan is in the top 800 universities globally according to the Times Higher Education World University Rankings
 https://www.uclan.ac.uk/
 https://youtu.be/1Jc6IVJjsME