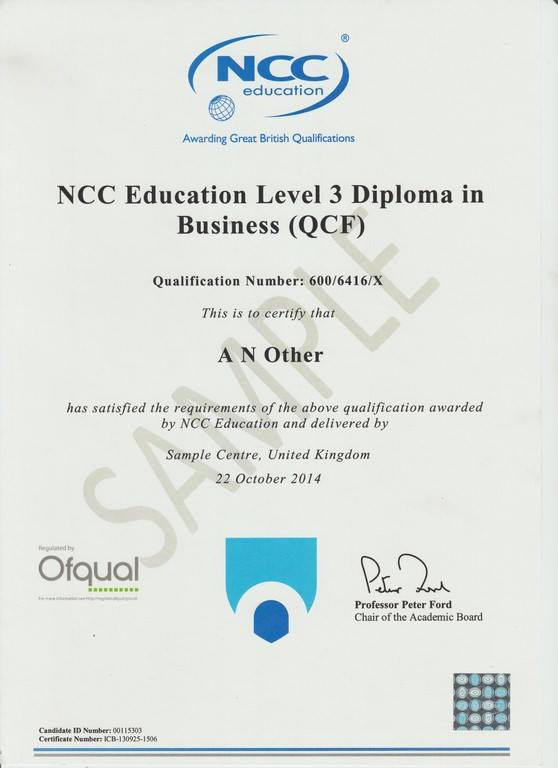 Level 3 Diploma in Business
ABOUT THE PROGRAMME
The NCC Education Level 3 Diploma in Business (RQF) is an Applied General qualification which allows candidates to demonstrate key transferable study skills, mathematical understanding and applied IT competency, as well as an understanding of the essential concepts of business and economics.
In addition successful candidates will fulfil the main entry requirements for NCC Education's Level 4 Diploma in Business or Level 4 Diploma in Business IT, as well as opening up opportunities to access a range of higher education courses or employment. Examples of higher education opportunities include, but are not limited to, progressing to university degrees in Business Management, Marketing, International Business, Accounting and Finance and examples of employment opportunities include roles such as Accounts Clerk, Recruitment Consultant and Accounting Technician.
The Level 3 Diploma in Business syllabus and assessment is suitable for students aged 16-19 as well as adult learners.
Download QUALIFICATION OVERVIEW
ACCREDITATION STATUS
NCC Education is regulated by Ofqual (Office of Qualifications and Examinations Regulation) to award the Level 3 Diploma in Business (RQF) in England. Ofqual Qualification reference number 600/6416/X.
For entry onto the NCC Education L3DB qualification a student must have:
Previously studied in English at secondary school level.
OR
A valid score of 5.5 or above in the International English Language Testing System (IELTS) examination or equivalent. Alternatively a student can take the free NCC Education Higher English Placement Test which is administered by our Accredited Partner Centres.
The Level 3 Diploma in Business syllabus and assessment is suitable for students aged 16-19 as well as adult learners.
Students must study the following five core units:
Study and Communication Skills – equips student with the essential study skills needed to succeed at university level. They will learn the basic skills necessary to conduct independent research, write academic papers, give formal oral presentations and apply what has been taught during lectures.
Mathematical Techniques – develops basic mathematical competence and confidence, for further study. Focusing on ensuring students have a functional level of mathematics will be valuable in everyday life and future career.
IT Skills – provides an introduction to the key IT skills that will be required in their studies. They will learn basic skills in word processing, spreadsheets and presentation software. The unit will focus on the Microsoft Office suite, but has been designed to allow students to gain the relevant skills regardless of the software version being used.
Introduction to Business – provides an introduction to the purpose, types and organisation of businesses. Students also become familiar with a range of business concepts such as basic marketing practices.
Introduction to Accounting and Economics – introduces the key principles of accounting and economics. Students will become accustomed to concepts such as market structures and monetary policy and also learn how to produce simple financial statements.
Are you ready to get started?
Subscribe To Our Newsletter